Package Offer 'Тhe Independence Day of Bulgaria'
Celebrate the Independence Day amidst the beauty of Rila and Pirin! Enjoy full relaxation at our newly built outdoor pool with mineral water, infinity jacuzzi, thermal and wellness areas, delicious natural food from our farms !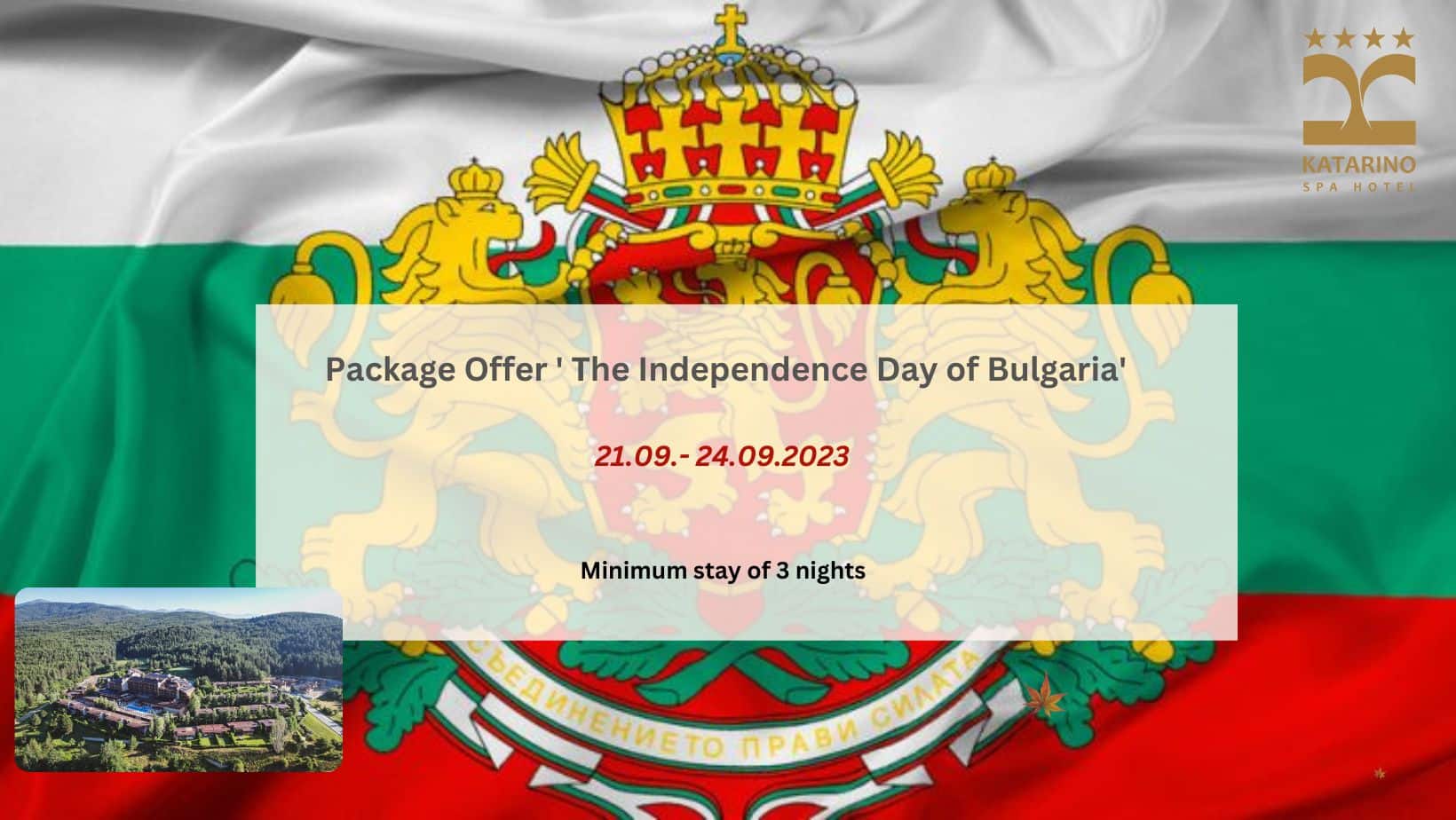 Prices
starting from  1014  BGN for the full stay of 3 nights
Bonuses in the package:
Free guided Hiking by your choice
Free Animation for children and adults
Eco food – own production at a buffet for breakfast and dinner
Children up to 5.99 years stay for free
Folklore program on September 22
       Package Offer Validity 21.09.- 24.09.2023
Accommodation with breakfast and dinner
Price for 3 nights in BGN
Rooms and apartments in the main hotel building
Luxe Room for 2 guests
 1014 
Deluxe Room with a balcony for 2 guests
1146 
Junior Apartment for 2 guests
1314 
Deluxe Apartment for 2 guests
1512 
VIP Apartment with a balcony for 2 guests
1890 
Accommodation in Villa Vihren
Two-bedroom Apartment in a Villa Vihren for 4 guests 
  2160 
Includes
The package prices are in BGN per room for 3 nights and include:
Comfortable nights, abundant breakfasts and superb dinners with carefully selected dishes prepared with a lot of love following authentic recipes with natural products from our farms
Kids' playground free of charge that offers to our small guests funny and animated care to keep parents calm and happy
Free access to the thermal area in Katarino SPA Centre – indoor and outdoor pool with healing mineral water with a temperature of 34 °C, jacuzzi cave, salt room, Finnish sauna, Kiva sauna, infrared sauna, aroma steam bath, panoramic steam bath, laconicum, adventure showers, tepidarium, panoramic relaxation area with an open fireplace, ice fountain
Open and indoor parking lot upon availability
Free WI-FI at the whole complex
9% VAT
Additional charges: The prices do not include tourist tax of 1.09 BGN per person per night, which is obligatory for all guests.
Accommodation policy for children and a third adult
For single accommodation in a Luxe and Deluxe room, the guest benefits from a 15% discount on the price
Children up to 5.99 years stay free of charge in the room of 2 fully paying parents according to the specified capacity of the room
For children up to 2.99 years, we provide free baskets with underwear and children's cosmetics, on request
For 1 child from 6 to 13.99 years  on an extra bed, 50% of the adult price is charged in case of two regularly paying parents
For 1 child up to 5.99 years and second child from 6 to 13.99 years, accommodated with 1 adult, the price of the room is equal to the price of single occupancy
For 1 adult and 2 children 6 – 13.99 years, the price is calculated as for two adults
A child from 0 to 13.99 years on a regular bed in a room with one adult stays for free, and the room is charged as a single use
First child 6-13.99 years old on an extra bed in the Junior Apartment and Apartment Deluxe pays 50% of an adult bed and a second child from 0 to 13.99 is free
Third  adult on an extra bed pays 70% of the price of a regular bed
Child up to 13.99 years on an  extra bed in a Two -bedroom apartment in Villa Vihren is accommodated for free
Maximum accommodation / capacity
 Luxe room and Deluxe room: 2 adults + 1 child up to 13.99 years
Junior Apartment and Apartment  Deluxe: 2 adults + 2 children up to 13.99 years or 3rd age + 1 child up to 13.99 years
VIP Apartment – 2 adults + 1 child up to 3.99 years
Two-bedroom apartment in Villa Vihren – 4 adults and 1 child up to 13.99 years
Conditions for bookings, cancellations, payment, valid for the package
The reservation is guaranteed with a pre-payment of 1 nights as a deposit
If the reservation is canceled up to 7 days before the check-in date, the deposit will be refunded by the Hotel
If the reservation is canceled 7 days of less before the check-in date, the deposit will be withheld as a cancelation fee by the Hotel
If the reservation at the hotel is shortened, the client owes the amount for 1 night as a penalty
The prices are valid for online bookings at www.hotelkatarino.com and by written request via e-mail at reservation@hotelkatarino.com
The Hotel reserves the right to offer different packages for national and public holidays.
The prices are not valid for group reservation
The hotel reserves the right to change the published prices