The Katarino SPA complex is one of the first modern spa hotels with excellent conditions for year-round tourism in the region of Bansko and Razlog. Established in 2005 and completely renovated in 2018, it is the embodiment of the idea of a luxurious spa holiday in nature! With its modern concept of spa and wellness services, the complex is the ideal destination for relax, family vacation, or ski vacation.
Katarino SPA Complex is located on an area of 31,000 square meters, nestled in the heart of the two highest mountains in Bulgaria – Rila and Pirin. What sets the complex apart is its attractive location, located just 5 minutes by car from Razlog and 10 minutes from Bansko – the most famous ski resort in the Balkans. Close to the summer and winter facilities, but at the same time away from the urban noise, the clean pine forests that surround the complex make Katarino SPA an attractive center for true relaxation and recharging in nature.
Изтънчена елегантност
The design of the renovated Katarino SPA Hotel is created by the famous Bulgarian art designer Maria Stoeva. It impresses with harmony among volume, shapes, and natural materials used in the construction of the complex, as the minimalist style and sophisticated elegance are its trademark.
За Вашето удобство комплексът разполага с
Single-family houses with two bedrooms each
Outlets / restaurant, tavern, lobby bar, vitamin bar, outdoor pool bar/
Heated swimming pools
With extensive green areas where sun loungers are located
Clothing and accessories store
The complex also has its own charging station for electric cars
capacity of 22 kW, which is the only one of its kind in the region
Own farm, Butcher's workshop, dairy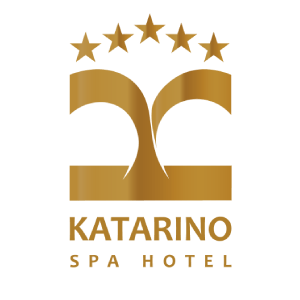 Виж актуалните цени и оферти