Произведените в Катарино продукти са вкусни, чисти и вдъхновени от природата!
In order to give our guests full enjoyment of their stay at Katarino SPA Hotel, we have created our own production of products and drinks of natural origin under the Katarino food brand in our farms.
Our production provides environmentally friendly products for our hotels. We produce all the meat and dairy products offered in the hotel restaurants ourselves. By creating the farm, the owners realized their concept of offering in their hotels food that has exceptional qualities such as origin, content, and taste, and that the products used are of absolutely clear and natural origin. A boutique but fully equipped own dairy and meat shop were built.
Our farms
What makes us preferred and different from other farms are the special breeds of animals, cows, sheep, and goats. We grow them freely and according to all humane rules, with natural food, which is the reason why the products we produce have a taste and aroma that have no analogue.
More about the farm and the animals raised there can be found here
 We get honey and herbs that we grow. Our bakery ensures delicious and warm bread for our guests. In all our recipes, we use fresh eggs laid by our free-range hens. In the small Boutique Brewery of the Katarino Complex, we produce live draft Kalugerica beer – Light, Dark, and Red lager beer. Weiss, and for the summer months – Cider.
Meat
In Katarino, we produce over 60 types of our own products from pork, beef, lamb, poultry, and game. This includes meat cuts, meat preparations, minced meats, short-lived cooked and cooked-smoked sausages from red and white meats, long-lasting raw-dried delicacies from shredded and unshredded meats with modern technological equipment, air-conditioned and natural dryers and excellently trained staff.
In the specially developed production technology by our professional engineer-technologist, are used only natural pure spices, decontaminated by a special method /Certificates of origin and quality /, as well as spices and herbs from the Pirin region /wild cumin, fennel, and other aromatic ingredients/ traditional for our meat delicacies – Banski Starets, Dried Banski but, Gorska Lukanka, Dried Pirin sudzhuk, Filet Katarino, Kaiser Pastrami, and others.
Kalugeritsa Craft Beer
The boutique brewery of Katarino SPA Hotel produces live beer Kalugeritsa – Light, Dark, and Red beer Lager. Weiss, and for the summer months – Cider.
Made according to an original unique recipe for exceptional moments when enjoyment becomes an experience.
The production technology is classic with the use of modern equipment. The beer is not filtered or pasteurized, but naturally carbonated, without the addition of surrogates, stabilizers or artificial enzymes.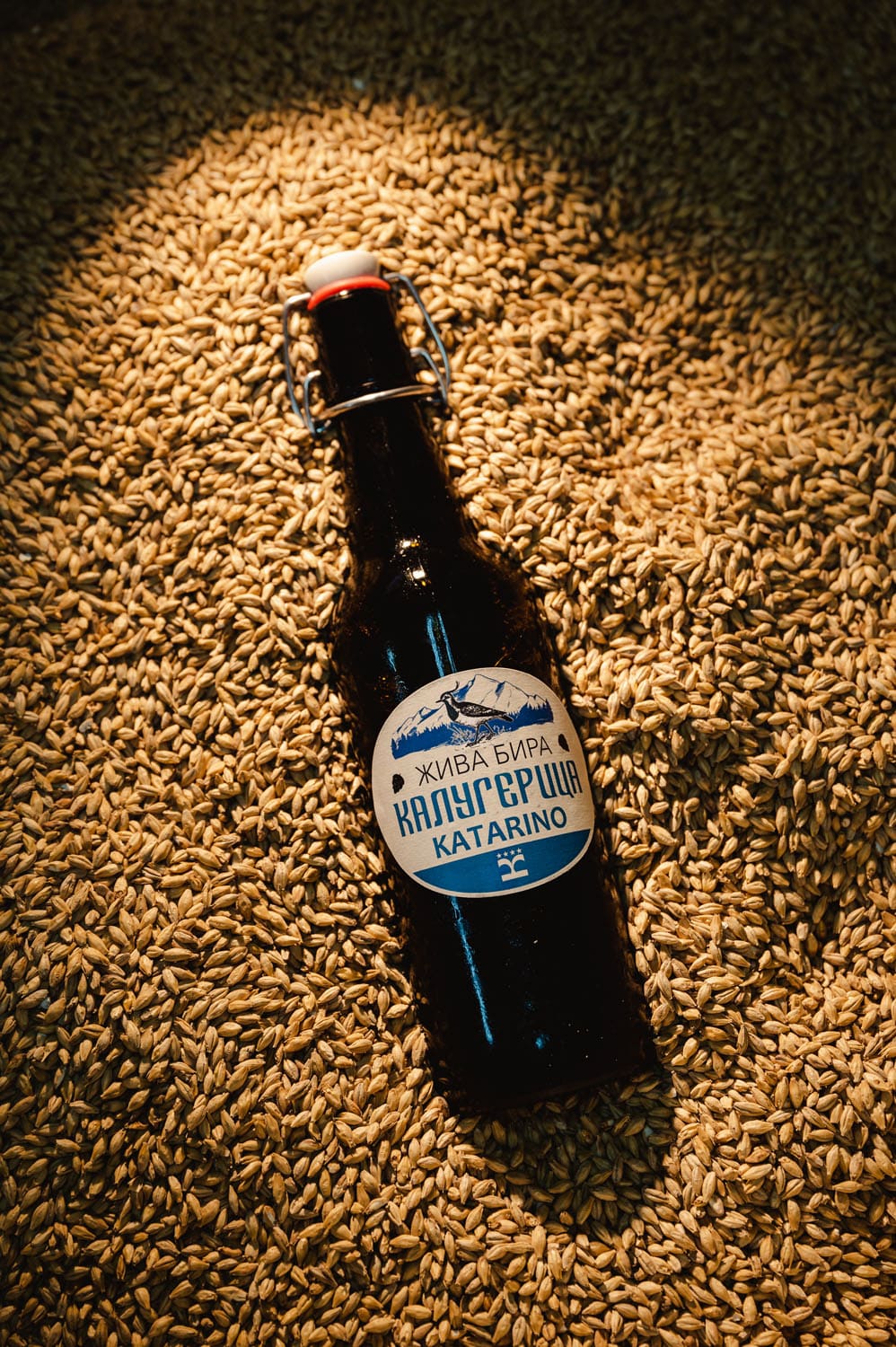 We use four types of Malt and three types of hops – aromatic and bitter, imported from Germany. It has fine fizz and white foam. The taste of malt gives the body a roundness and is associated with the softness of fresh whole wheat bread. The hop aroma is noble and is due to the Hallertauer variety. Tradiational Lager brewer's yeast has transformed uncompromising raw materials into life-giving and mood-giving. Aged at low temperatures, when poured into the glass it eagerly reveals its potential and strength controlled for 21 days during the maturation period.
Eggs
Every morning you can have breakfast with fresh eggs laid by our free-range hens. Appetizing omelet or aromatic pancake … the choice is yours!
Honey
The honey with which we sweeten your day is from our apiary, which is located in an ecologically clean area of Rila Mountain.
Dairy products
Every cheese – cow, sheep, or goat, yellow cheese, and butter that we offer to the guests of Katarino SPA Hotel is produced in our dairy with great care and high-quality standards. All our dairy products are prepared only from fresh milk, without added thickeners, preservatives, and flavorings.
 Real yogurt with a taste that will teleport you back to the good old days. Contains only whole milk (from carefully bred and specially selected breeds of animals) and sourdough, without added flavorings, starches, preservatives, and any additives affecting your health.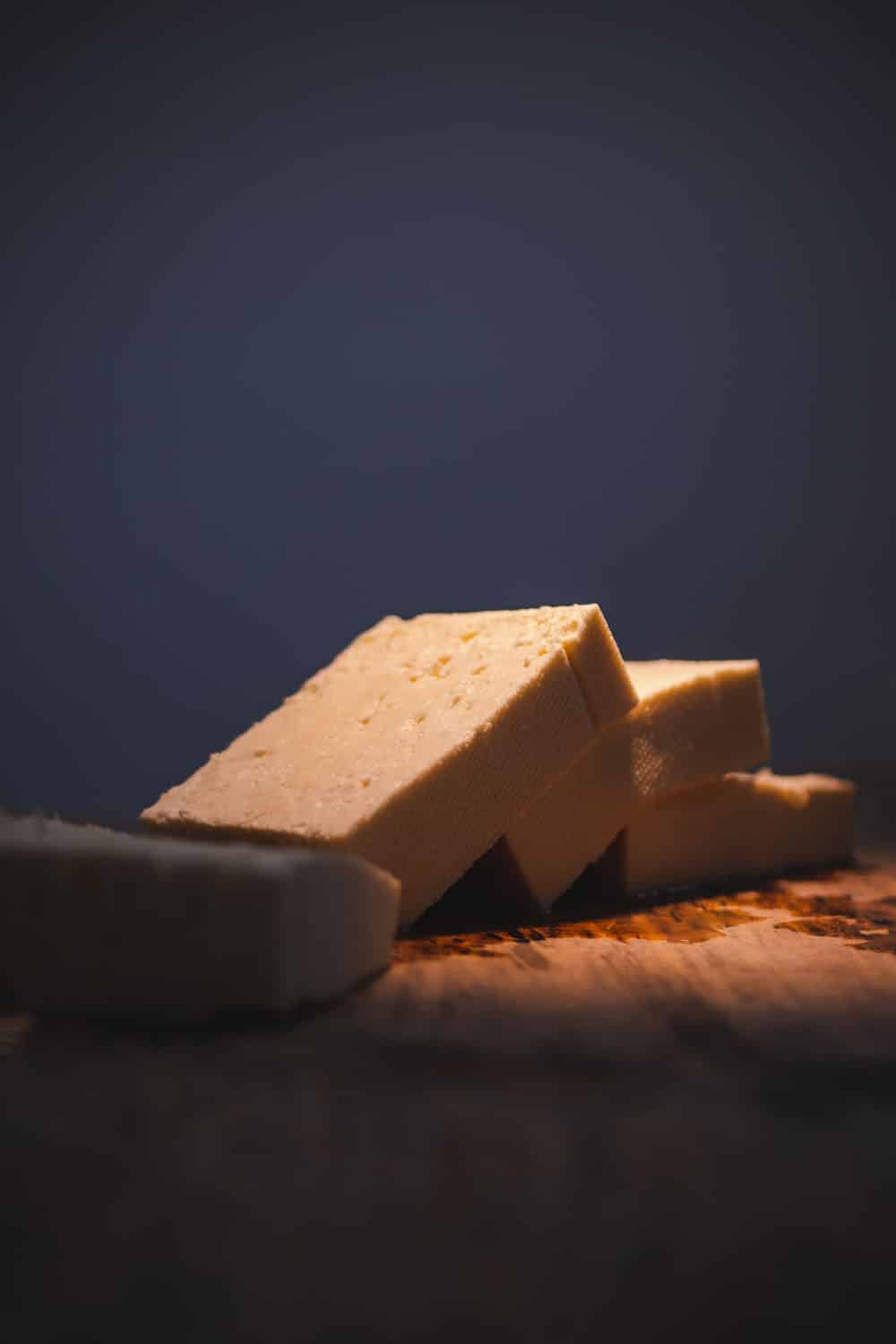 Jam
Your favorite blueberry jam is here… Prepared on spot from fruits picked from the mountain slopes.
Bread
All types of bread that we offer you are irresistible and are baked here on spot. Made from selected flours, freshly baked in our wood-fired oven.
Tea and herbs
Do not miss to enjoy a cup of aromatic tea prepared with the herbs of Rila and Pirin, lit by the sun and blown by the mountain wind. The hand picking of the herbs and the selected origin is guaranteed by us.
Own ice cream and pasta
Try our homemade specialties – homemade pasta and homemade ice cream.
We achieve unique taste by using natural products from our own farms and from local producers. A true culinary bliss!
Homemade pasta – naturally made by our master chefs, made with eggs from free-range hens and natural flour, without raising agents and homemade sauce.
Homemade ice cream with various additives is an exceptional treat and a logical end to any meal.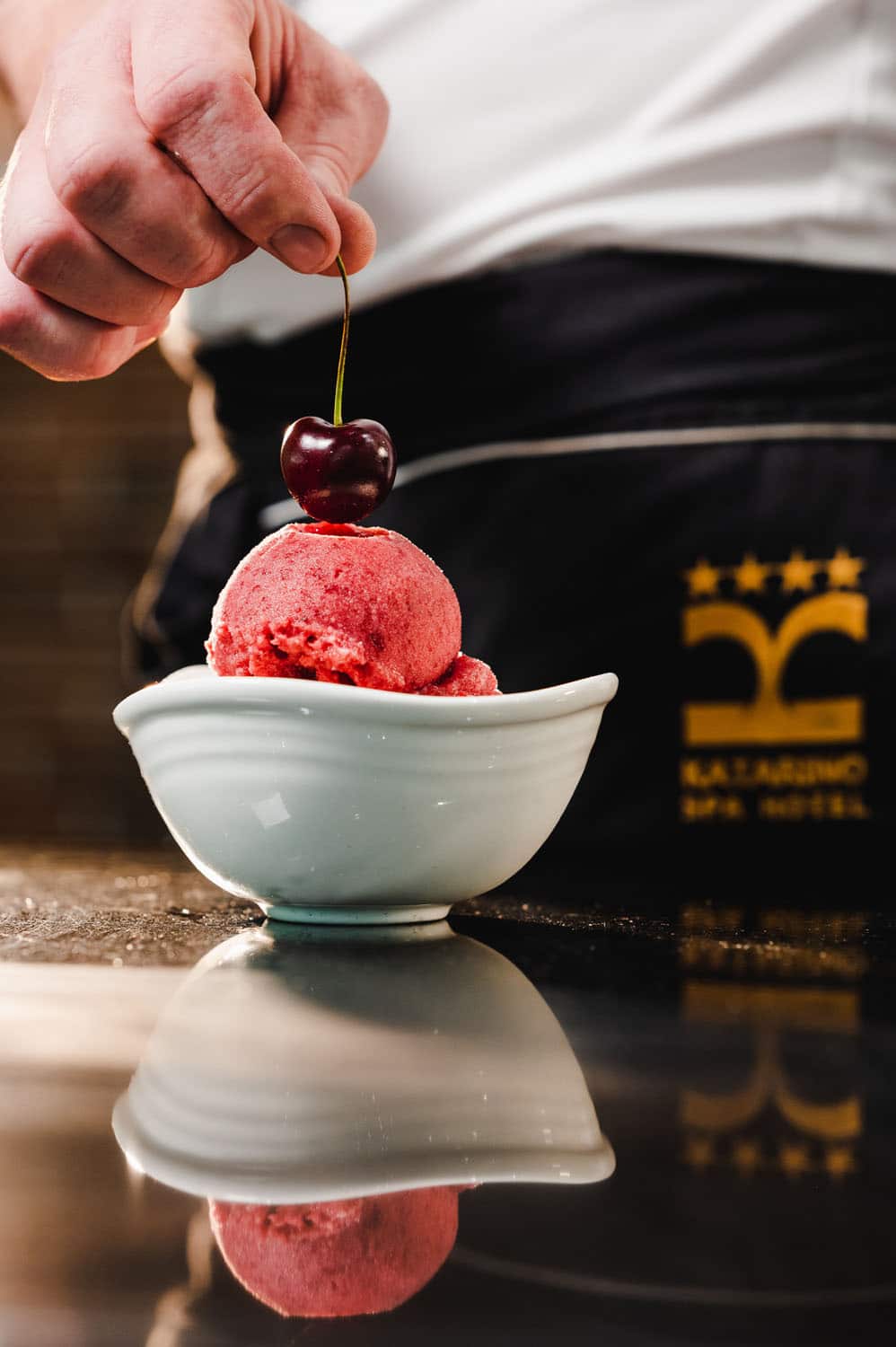 Online shop KATARINO Food
If you want to buy from the products – own production from our farms
Our culinary shop is located in the hotel for connoisseurs of naturally produced sausages and cheeses, honey, jams, sweets, and various types of bread from our bakery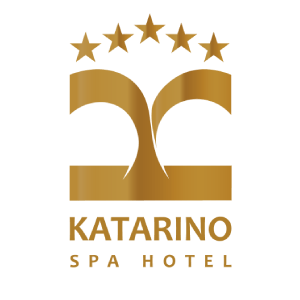 Виж актуалните цени и оферти