A perfect stay for your children, too! Whether you need a baby bath or a potty, we've got you covered.
Baby cot
Baby blanket and a pillow
Child's bathrobe and slippers
Pot
Toilet seat
Night Light
Diaper changing stand
A bathtub with a seating area
Contact fuse
Car seats 9 – 18 kg.
Bicycle seats
In the restaurant, we have specially prepared children's menus, tailored to the peculiarities of children's meals as well as baby feeding chairs..
We stock children's bathrobes in the bathrooms of the hotel rooms.
For further information and assistance, please contact Reception or dial 9.
Children are happy to come to Katarino SPA Hotel again and again because with us they play carelessly and freely. The kid's club in Katarino Spa Hotel is suitable for kids from the age of 3 to 14 and it is always full of joy, cheerful games, and new adventures. Our little guests can laugh and jump, sing and dance, draw and create new things, win competitions, and make new friends.
Kids' club
Имаме възможност за нашите най-малки гости да приготвим допълнително храна, която не намирате в менюто или на бюфета – без сол, без подправки или други добавки. Според вашите изисквания и хранителния режим на детето.
Можете да поръчате на вашия сервитьор или да се консулнирате с главния готвач. Детската кухня е безплатна за гости, настанени със закуска и вечеря.
Children's animation
During the summer months, the complex has an all-day children's animation with a specially prepared program to make the stay of the little ones even more interesting with various games and activities.
Конна езда
Безспорно ездата е една от най-любимите активности, включени в нашата анимация, сред децата. Да се научат да яздят и да изградят връзка с коня е невероятно преживяване за всички малчугани. Освен това конната езда е изключителна полезна за развиване на тяхната личност и увереност, поемане на отговорност, работа в екип и придобиване на физически умения.
Kids' club
The kids' club is equipped with a large "pool" net with a slide and colorful soft play balls. We have children's drawing tables, we offer pictures for coloring with pencils and markers. Everything in the club is real, but tiny. This includes chairs and cupboards, a children's washing machine, a kitchen for cooking, and a dollhouse. We have also provided a TV with entertaining children's movies. All facilities are certified and provide safety for your children. The kids club is free of charge for the hotel guests.
Individual babysitter
You have the opportunity to use the services of a personal babysitter who you can request in advance and with additional payment.
Two playgrounds in the open
Two playgrounds in the open are for fun games in good weather. Secured and tailored to the age of the children, they provide a variety of entertaining attractions: climbing, tunnels, slides, and swings. Your kids will spend hours in the fresh air, playing and having fun!
The outdoor children's pool

In the summer, the outdoor children's pool with warm healing mineral water is open for the children.
If the parents want to swim with their children in the adults' pools with warm water, they should note that children up to 4 years old are only allowed in diapers, and children from 4 to 14 years old can swim in the adults' pool only with a companion.
For older children, over 6 years of age

We offer board games – Monopoly, Don't Be Angry, Man, Chess, Backgammon, and Playing Cards. They can be played in the spacious hotel lobby with their parents or in the specially designed quiet games room located next to the Reception.
Bowling, electronic games, and billiards

We offer you:
a four-lane bowling alley
two pool tables
mini football, darts, and air hockey
Tennis on court and table tennis

Older children can practice their sporting skills with the tennis court and table tennis offered at the complex.
Policy for the accommodation of children
Extremely motivating for their parents to choose Katharino Spa for their family vacation.
Children up to 6 years old are accommodated completely free of charge, and children from 6 to 14 years old use a 50% discount on accommodation and food prices.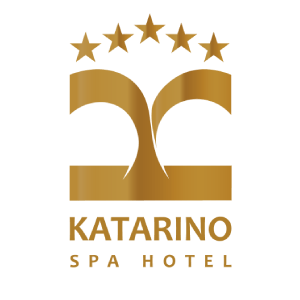 Виж актуалните цени и оферти